High Power, Temperature-Controlled Top to Toe RF Skin Laxity and Cellulite Treatment.
NuEra tight is a temperature-controlled radio frequency (RF) skin smoothing system with the power to redefine the future. The power to target and revive, to uplift and to perfect all over.
NuEra is FDA-cleared for RF heating, both superficial and deep, to treat a variety of conditions such as temporary reduction in the appearance of cellulite.
Smooth look

Treatment comfort

Satisfying results
Simplicity

Treating a wide range of conditions

Reliable technology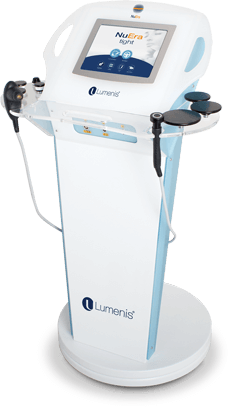 Depth and power perfect: Top-to-toe targeted skin smoothing
NuEra tight is a non-invasive RF solution to improve the appearance of cellulite and skin laxity, with consistent results and without downtime. NuEra tight emits powerful RF waves at 470kHz with high 250W power, to heat the skin's surface superficially or reach deeper tissue levels. By using the precise frequency and depth of heat, you can treat a variety of conditions with different levels of severity and on different areas of the body and face. NuEra tight optimizes treatment efficacy on the abdomen, flanks, buttocks, inner and outer thighs, upper arms, bra and back fat, as well as around the eyes, mouth, cheeks and neck.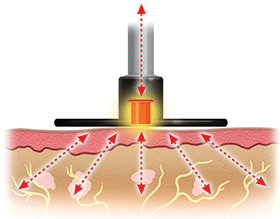 NuEra tight RF emits at a low 470kHz frequency to infiltrate deep down for deeper skin tissue penetration and better thermal effect and results.
Intelligent heat perfect: temperature-controlled RF
NuEra tight uses APIC (Automatic Power and Impedance Control), the next generation temperature control technology, to ensure safety and efficacy
APIC automatically – and gradually – increases the RF power to the target temperature based on Impedance detection, and then maintains it for the duration of the treatment. It delivers precise heating to the required depth, with predictable and consistent results.You can focus on treating your patients with the light and ergonomic handpiece, while letting the system take care of delivering the right temperature and power.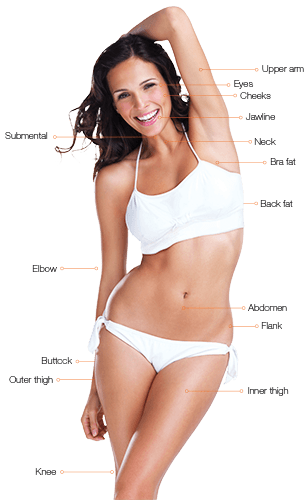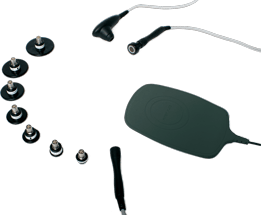 Success for face, neck and body
NuEra tight is user-friendly: It features an automatic configuration graphic interface for maximum treatment versatility. Simply select the area of the body or face to be treated, and the system automatically sets the correct parameters, and then displays the right accessory and treatment. Apply the NuEra tight electrode to the skin's surface with the device set to a specific target temperature. Gently move the electrode in a slow sweeping or circular fashion so that it gradually, uniformly and safely heats up the skin's surface. The treatment is both comfortable to give, and pleasant to receive. As the skin's temperature rises to the target temperature, the RF output automatically adjusts for precise heating, thanks to the APIC technology. Treatment is fast and efficient, taking around 10-15 minutes to treat facial areas and around 20-25 minutes to treat body areas
Put your patient's future in your hands
Thanks to its remarkable 250W power, NuEra tight uniquely works with one resistive bipolar handpiece and two unipolar handpieces with Coated Capacitive Energy Transfer (CCET) electrodes in a wide variety of capacitor head sizes – from small to very large. The system treats all areas quickly, safely and efficiently, providing natural looking and smooth results. Patients can look forward to no downtime following an initial course of treatments aimed at achieving their goals. Afterwards, the smoothing effect is easy to maintain with touch-up treatments. This maintenance approach to NuEra treatments keeps patients coming back to your practice and offers a smooth appearance that lasts.
NuEra tight offers a new, 2-step approach to smoothing: