Taking body treatments to the next level with NuEra
November 18, 2019 6:00-7:00PM CET
Renée Lapino will discuss tips and techniques to increase patient base and maximize the return of your body device. The discussion will also cover some key things to consider when buying a body treatment device for your practice with key focus on NuEra.
NuEra tight is a temperature-controlled radio frequency (RF) skin smoothing system with the power to redefine the future. The power to target and revive, to uplift and to perfect all over.
NuEra is FDA-cleared for RF heating, both superficial and deep, to treat a variety of conditions such as skin tightening and cellulite reduction
What are you going to learn?
Radiofrequency and body treatment trends.
Treating variety of body treatments with NuEra.
How to combine RF devices with existing body treatments.
Attendees will get free access to a premium report highlighting the latest aesthetic trends in the market. Don't forget to register!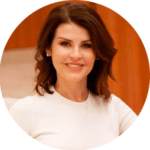 Renée Lapino

A London-based skin guru, American trained medical facialist and an avid user of NuEra.
Renée is passionate about all types of skin, but especially scarring, anti-aging and revitalization work. She has appeared in many publications, such as Cosmopolitan, Tatler and Vogue, as the who's who of skin.
She caters to a variety of clientele; several male and female A-listers, prominent British surgeons and physicians, elite members of the press, nutritionists, personal trainers, and a long list of American, European and Arabic socialites can all regularly be found on her treatment table.