Lumenis® Pulse™50H – Soft Tissue Laser
Mid Power Holmium Laser for Efficient Lithotripsy and Soft Tissue Treatments
Specially designed to effectively address any kind of stone in Lithotripsy and soft tissue
Over 130 different energy and frequency settings to address any type or size of stone and soft tissue effectively and rapidly

High energy per pulse and high repetition rate (3.5J and 25Hz) enable a rapid fragmentation rate even with hard stones

Pre-programmed Pulse Reshaping Technology designed to better address bleeding and retropulsion

Dual-pedal enables two different working modes operating simultaneously

Hands-free ready/standby mode for improved ease of use

0.2J of energy per pulse minimizes migration of stones
Embedded Homeostasis Capabilities
Innovative Pulse Reshaping Technology allows physician to quickly switch to a longer pulse to better address bleeding and retropulsion.

Holmium is well absorbed in water, penetrates tissue in a clear and controlled manner and prevents charring, necrosis and collateral damage.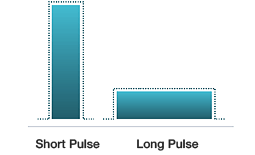 Lumenis Pulse 50H combined the new SlimLineTM 200 D/F/L ball-shaped fiber tip is designed to reduce the risk of damaging the flexible scope during initial fiber insertion.
The combination of different laser parameters allows for a wide range of clinical procedures, including Urology, Arthroscopy, General Surgery, Head & Neck , Gynecology, Gastroenterology and more. The system is validated for the full range of Lumenis fibers to increase the system's reliability and extend the fiber lifetime.
Innovative design and GUI
An intuitive GUI with a touch screen allows for the tracking of accumulated energy during the procedure and double settings are controlled by the systems' dual pedals
Customizable dual pedals
Allows for easy switching between laser settings during procedure. This feature may be applied by having one pedal dedicated to hemostasis in order to address bleeding.
Enhanced Visibility
Green aiming beam for enhanced endoscopic visibility.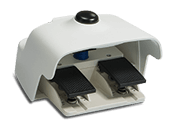 Validated with Lumenis® Range of Delivery Devices
SlimLine™ family of fibers: Is designed for durability, flexibility and versatility in urological procedures

SlimLine™ 200 D/F/L ultra-flexible fiber: Is designed for flexible ureteroscopy procedures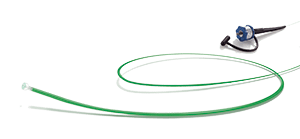 A wide range of treatment options, including:
Benign Prostatic Hyperplasia

Kidney stones

Bladder stones

Ureteral stones

Strictures

Bladder tumors
Biliary stones

Gastroenterology procedures

Orthopedic procedures

ENT procedures

Thoracic & Pulmonary procedures

Gynecology procedures

Dermatology and plastic surgery