The Preferred YAG Photodisruptor
Enhanced Patient Safety; Superior Technical Design
The Aura® PT™ Ophthalmic YAG Photodisruptor Laser System represents the latest YAG product offering from Lumenis. The preferred product for anterior-segment procedures such as laser iridotomy and capsulotomy, the Aura PT includes advanced specifications which make treatment fast and accurate for superior patient care. Designed to be safe and easy to use, the Aura PT is the result of years of engineering and manufacturing expertise.
The Aura's advanced features – a 16 degree cone angle, precision optics, adjustable posterior & anterior offset, and high repetition rate – allow you to perform capsulotomies on all types of intraocular lenses (IOL) with significantly lower risk of lens pitting. In addition, the superior laser cavity design enables more efficient tissue cutting at lower power and with fewer shots.
The Aura PT was designed with the busy, multi-physician practice, surgery center and outpatient clinic in mind. It truly offers ophthalmologists a YAG photodisruptor that is exceptionally robust and affordably priced.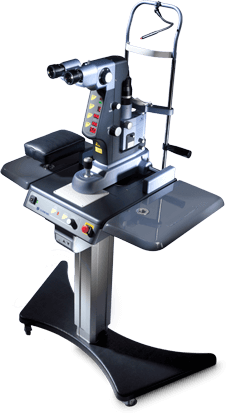 Optimal Energy Placement

Advanced Adjustable Offset

Enhanced Slit Lamp Optics

Improved Design

Fast Operation and Flexible Settings
Aura PT Specifications
Treatment Laser Type
Nd:YAG
Wavelength
1064 nm
Mode
Fundamental Q-Switched
Energy
Continuously adjustable from 0.2 to 10 mJ
Spot Size
8 μm
Burst Mode
1, 2, 3 pulses each burst; separation between pulses is 20 μs
Pulse Width
4 nanoseconds (typical)
Repetition Rate
2.5 Hz
YAG Offset Focus
Continuously variable from anterior (-)500 μm to posterior (+)500 μm;
detent steps @ 0, 150, 250, 500 μm
Focal Length
107 mm
Cone Angle
16º
Magnification
5 steps: 6x, 10x, 16x, 25x, 40x
Slit Lamp
CSO SL 950
Aiming Beam Laser
Dual beam 635 nm diode continuously variable intensity to 200 μW
Electrical Power
100V - 240V AC, 50/60 Hz
Cooling System
Air Convection
Dimensions
52 cm x 32 cm x 45 cm; 20.5 in x 12.5 in x 17.7 in (H x W x D)
Weight
21 kg or 46.3 lb (system); 28 kg or 61.7 lb (packed)
Lumenis First Class Quality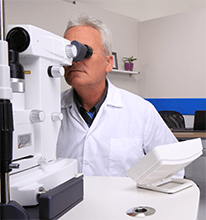 Our passion for opthalmic lasers date back more than 40 years! At Lumenis, we truly understand multi-wavelength photo-coagulation-technology; that is after all only one of the privileges reserved for the foremost pioneer in this field. It is also precisely the reason why the decisive majority of general ophthalmologists and retina specialists around the globe have actively chosen to purchase Lumenis multi-color lasers – making Lumenis the global market leader and the company with the largest installed-base of multi-color ophthalmic laser products worldwide.
Enhanced Patient Safety; Superior Technical Design
Advanced Adjustable Offset
The Lumenis Aura® PT™ features two defocus positions that can easily be changed with a roll of your finger, allowing for easy and safe focus correction exactly in front of, behind or precisely at the plasma break point.
With an adjustable laser focal point of up to 500 μm anterior or posterior to the aiming beam, the Aura PT offers the industry's highest flexibility rate. This allows ophthalmologists to treat patients on a case-by-case basis with more accuracy, precision and safety than even before. Such flexibility allows customization of the procedure based on each patient's IOL type and the type of the treatment performed. This significantly reduces the risk of lens damage when treating anterior or posterior to the IOL or faster and safer results when performing iridotomy.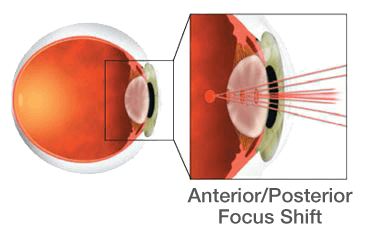 The Aura's beam profile, laser cavity design and precision optics ensure low-energy plasma formation and minimal trauma to the eye. The unit's sophisticated focusing system ensures superior accuracy in energy placement when firing the laser, resulting in a gentler and highly-accurate outcome.
Enhanced Slit Lamp Optics
Advanced precision optics offer maximum visibility for more precise diagnosis and treatment. The Lumenis Converging Optical System – specifically designed for anterior segment procedures – ensures clearer visualization and greater comfort for the treating physician, even during extended procedures.
The Aura's compact and lightweight design optimizes the physician's working space, without compromising on the patient's comfort. A user-friendly control panel offers ready access to all operations and facilitates easy control over all system parameters. The unit is operated through a laser-fire switch, conveniently integrated into the controlling joystick.
Fast Operation and Flexible Settings
With a 2.5 Hz repetition rate, the Aura is one of the fastest YAG Photodisruptors currently available in the market. Together with adjustable energy levels of 0.2 – 10 mJ, tissue disruption is faster and more accurate than ever before.
Caution: Federal (US) law restricts Lumenis devices to sale by or on the order of a licensed practitioner.